Mama Shaw's Edible Insects
Mama Shaw's offers an easy to display line of edible insects that you can private label with your company name or event.
With a low minimum order of $130, the name "Mama Shaw's Jerky Shop" can be changed to the text of your choice. With orders over $2500, you can have a completely customized label.
Product Specifications
| | | | |
| --- | --- | --- | --- |
| Product Size: | Varies | MSRP: | $4.95 to $5.95 |
| Package Size: | 5 x 1/2 x 4 1/2 x 1/4 | GS1 Bar Code:  | Yes |
| Package Weight:  | Varies | Minimum Order: | 3 pcs. |
| Shelf Life: | One Year | SKU: | See Below |
| | | | | |
| --- | --- | --- | --- | --- |
| GS1 Bar Code | SKU | Product Size | Package Weight | Product |
| 850004399101 | MS-001-00001-13 | 15 Grams | 17 Grams | Mama Shaws | Chipotle Bacon Crickets |
| 850004399118 | MS-001-00001-2 | 15 Grams | 17 Grams | Mama Shaws | BBQ Crickets |
| 850004399125 | MS-001-00001-3 | 15 Grams | 17 Grams | Mama Shaws | Jalapeno Cheddar |
| 850004399132 | MS-001-00001-4 | 15 Grams | 17 Grams | Mama Shaws | Sriracha Crickets |
| 850004399149 | MS-001-00001-5 | 30 Grams | 34 Grams | Mama Shaws | Chapulines |
| 850004399156 | MS-001-00001-1 | 30 Grams | 34 Grams | Mama Shaws | Chirpy Jerky |
| 850004399163 | MS-001-00001-7 | 6 Pieces | 12 Grams | Mama Shaws | Manchurian Scorpions |
| 850004399170 | MS-001-00001-14 | 25 Grams | 27 Grams | Mama Shaws | Superworms |
Line Sheet
---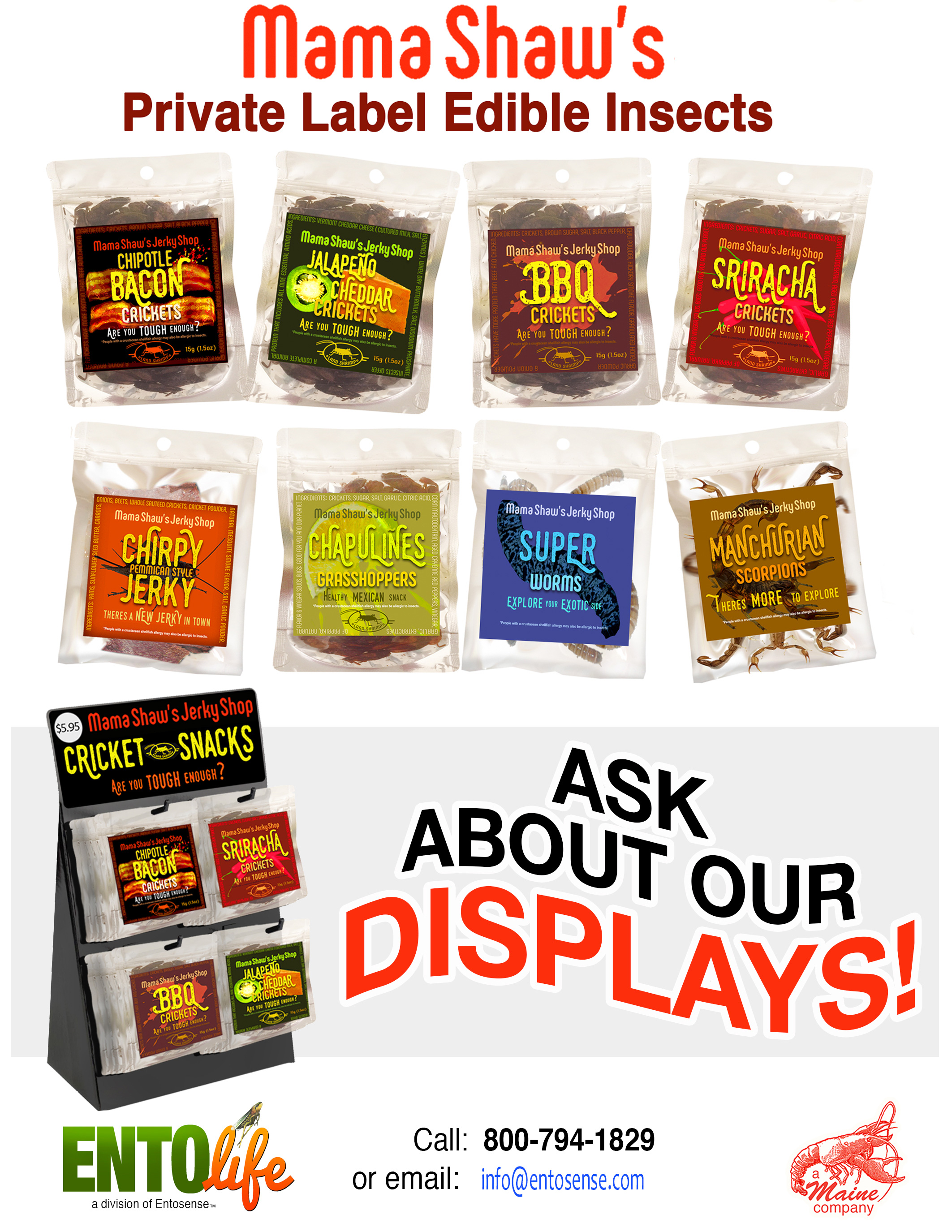 Out of USA Orders
| | |
| --- | --- |
| | The prices and terms represented here are for customers from the USA. We accept orders from countries around the world and we hope to update our site to handle language and currency from other countries. But, at this time, orders originating from outside of the USA will need to email info@entosense.com to inquire about commercial shipments to your country. |