Wholesale Cricket Powder
Cricket Protein Powder
This is pure cricket powder. To make cricket flour, mix one part cricket powder with three parts baking flour.
Package Size:
20 Gram Zip Bag
4 oz. Flip-Lid Jar
1 Pound Grip Jar
5 Pound Bag
10 Pound Bag
50 Pounds Box
Cricket Powder has:
60% protein by volume
26 mcg B12/ 100 grams (Beef has 1-2mcg/100grams)
High in iron and calcium
Low in fat
All 9 essential amino acids
Omega 6:3 ratio of 3:1
Chitin Fibre – a source of Prebiotics – nutrition for probiotics – used as an antimicrobial gut agent
Crickets are raised on farms specifically for human consumption and are fed using high quality grain.
---
NOTE: To make cricket flour use 25% cricket powder to 75% regular or wheat flour.
Product Specifications
Cricket Powder – 20 Gram Zip Bag

Product Size:
20 Grams
MSRP:
$6.99
Package Size:
4″ x 4″ x 1/2″
GS1 Bar Code: 
850004399248
Package Weight: 
Minimum Order:
3 pcs.
Shelf Life:
One Year
SKU:
EL-003-0025-1
Cricket Powder – 

4 oz. Flip-Lid Jar

Product Size:
4 Ounces
MSRP:
$23.95
Package Size:

4 oz. Flip-Lid Jar

GS1 Bar Code: 
850004399255
Package Weight: 
Minimum Order:
3 pcs.
Shelf Life:
One Year
SKU:
EL-003-0025-2
Cricket Powder – 

1 Pound Grip Jar

Product Size:
1 Pound
MSRP:
$64.95
Package Size:
GS1 Bar Code: 
850004399262
Package Weight: 
Minimum Order:
3 pcs.
Shelf Life:
One Year
SKU:
EL-003-0025-3
Line Sheet
---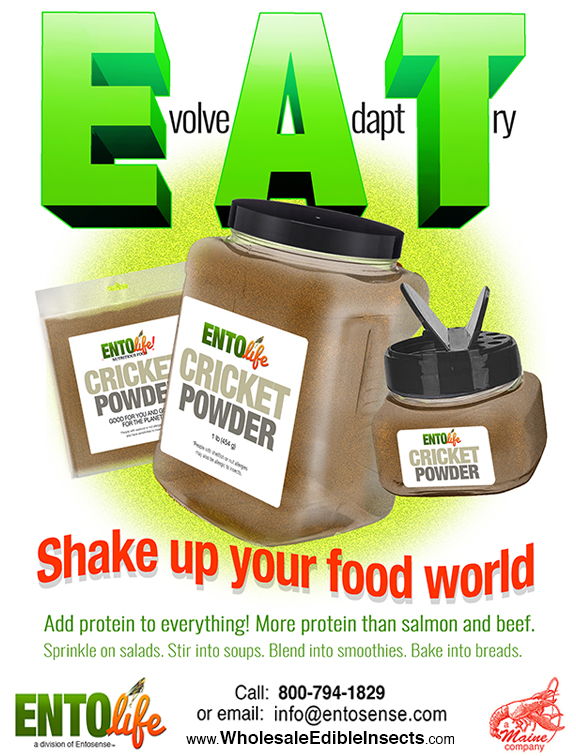 Out of USA Orders
| | |
| --- | --- |
| | The prices and terms represented here are for customers from the USA. We accept orders from countries around the world and we hope to update our site to handle language and currency from other countries. But, at this time, orders originating from outside of the USA will need to email info@entosense.com to inquire about commercial shipments to your country. |